High-Quality Pre-Engineered & Prefabricated Buildings for the Border Region
Steel Erection
We specialize in structural steel erection. 
Prefabricated buildings—also known as pre-engineered metal buildings—are becoming the new standard for infrastructure and construction work. Whatever your project entails, these structures can help meet your manufacturing and construction goals.
Here, at Southwestern Industrial Contractors, we have the equipment and materials to help build pre-engineered structures. These buildings are perfect for any kind of project and they offer benefits beyond what a basic building has. If you want to go above and beyond with your projects, a prefabricated building can help you with exactly that.
The Benefits of Prefabricated Buildings — What You Need to Know About Pre-Engineered Metal Buildings
Prefabricated buildings are made with the most durable and reliable materials out there. They offer a longer lifespan than the average infrastructure. Even better, the materials that make up a pre-engineered metal building are designed and ready for assembly, making the process easier on your end.
When you utilize pre-engineered metal materials with equipment from Southwestern Industrial Contractors such as steel erectors and overhead cranes, you can get a project done in no time. Whatever your construction project entails, a prefabricated building can be used for any setting and industry.
Prefabrication starts with materials. Steel, and aluminum, are among some of the most common materials used in pre-engineered buildings, so we can provide the necessary materials you need for your project.
We take our time when it comes to creating the measurements and sizes of the materials you need that way you don't run into any trouble further into your project. From there, we proceed by helping you assemble all the parts at your project or construction site.
By allowing us to help with pre-engineering your building, you don't have to worry about costs and downtime as you usually would with regular construction. The design process for prefab buildings at Southwestern Industrial Contractors is one of the most careful and precise.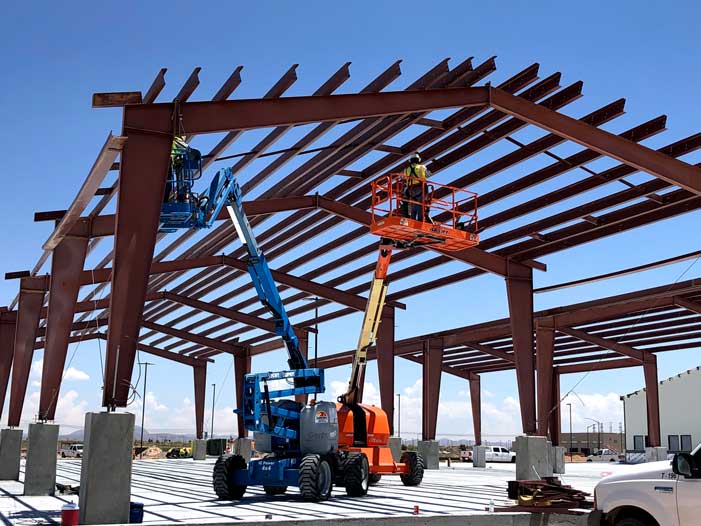 What You Should Know About Pre-Engineered Metal Buildings
Prefabricated buildings are commonly built offsite where the construction of the building is better suited. We can, however, construct onsite, depending on your construction plans and goals. Once the structure is completed, our contractors can transport the infrastructure to your construction site and finalize the assembly and setup.
Working with a pre-engineered metal building offsite allows our contractors to do more planning and get a head start on how manufacturing will be done once all the materials are ready for assembly.
Since there is more thought and planning with prefabricated buildings, these structures tend to be safer to work with as there is little risk of encountering hazards or unsafe conditions. Needless to say, these buildings offer uniformity, the demand for raw materials, and much more.
Contact Southwestern Industrial, Today!
At Southwestern Industrial Contractors, we manufacture, engineer, weld, and assemble pre-engineered metal buildings that are designed for all kinds of applications and uses. Whatever your building will be used for, we can guarantee it will provide the structure and durability you're looking for. Contact us today to learn more about what our prefabricated building services can do for you.
Interested in partnering with
us on your next project?