Here at Southwest Industrial, we've helped a variety of different clients with various projects. Some of them stand out more than others due to their uniqueness and the extraordinary experience we had. To highlight some of these key events that we've worked on, we decided to look back at the significance of some of our projects. One of our top projects was working with NASA for the shuttle Columbia landing mission support in 1982. The operation was completed in a record time of six days in time for the shuttle's scheduled landing. This landed Southwestern Industrial a NASA award for our hard work.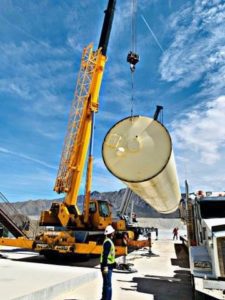 Our Involvement In With The Columbia Shuttle 
Southwestern Industrial provided erection and logistical support for the Columbia landing at Northrop Strip at White Sands, New Mexico. The original chosen spot was at the landing site at the Edwards Air Force Base. However, the California floods made it unsafe for a proper landing. The heavy rains left the ground at Edwards too soggy for the 122 foot long, 100-ton spacecraft. Two trains carrying 23 cars in total were sent from Edwards, making the 1,000 miles trip loaded with landing support structures and equipment to El Paso, Texas, in two days.
It was then, Southwestern Industrial assisted the NASA team. By working with the unloading, transporting, and the erection of a new trailer city built at the landing strip at White Sands, New Mexico. This was to save the orbiter Columbia after landing. We assisted with repairing the shuttle and prepared it for shipping back to Edwards, Air Force Base.
History At White Sands
The Columbia shuttle touched down on the back-up landing Northrup Strip at the White Sands Missile Range in New Mexico on March 30th, 1982. The Columbia shuttle was crewed by NASA astronauts Jack Lousma and Gordon Fullerton. Luckily, the pilots were familiar with the runway since it's used as a training ground for astronauts. Two months later, President Ronald Reagan signed legislation renaming the Northrup Strip area as White Sands Space Harbor.
Southwest Industrial Accomplishment 
Overall, it was an exciting time for the team at Southwest Industrial. Since this was the only shuttle landing on this strip, we have not had the opportunity to do it again. No matter, it's one of our proudest moments and an astonishing accomplishment and opportunity. For more information on our services and expertise, you can see everything we offer here.